Impact
Since 2009, Gateway Children's Charity has raised over $900,000 to invest in St. Louis early childhood programs. Its grants have impacted over 3,000 St. Louis-area children.

2018 Grant Recipients
Hilltop child and family development center
Hilltop Child and Family Development Center, which provides early education and wrap-around services to families living in North St. Louis City and North St. Louis County, received funding to renovate their kitchen to better meet the nutritional needs of the children and families they serve.
Kipp St. Louis
KIPP St. Louis, a charter school network that serves St. Louis students in Kindergarten through tenth grade, received funding to furnish literacy resources for four new Kindergarten classrooms that will be added in the 2019-20 school year. These resources will bring rich literacy tools to thousands of Kindergarteners in the years to come. At KIPP St. Louis, 100 percent of their students receive free- or reduced-price lunch and nearly all identify as people of color, yet they outperform state averages in Language Arts, Math and Science.
Unleashing potential
Unleashing Potential, one of St. Louis' oldest nonprofits which empowers youth and families to meet their potential through early education, afterschool, enrichment camps and youth development, was awarded a grant to add a new classroom to their program, purchase equipment, and improve their playground. Additional classroom space and playground resources will further the organization's mission to close the opportunity gap for children and youth by building on their strengths.
Previous GranT Recipients
City Academy
City Academy received a grant from GCC to build a three-year-old classroom in a new state of the art Early Childhood Center for 135 students from three-year-olds through second grade. It is built to meet the spatial, curricular, extra-curricular, and developmentally appropriate needs for all of its students. The three-year-old classroom optimizes learning by reducing transition time through consolidation of space. The new classroom promotes hands-on, inquiry based learning that encourages asking questions and solving program. The three-year-old classroom opens into an outdoor learning space that circles the exterior of the Early Childhood Center and includes stations for art, music, physical activity and awareness, and science exploration.
Cornerstone center
Cornerstone Center – an Early Childhood Center – received a grant from GCC to renovate their infant/toddler playground. After 12 years and over a thousand little feet running, playing, rolling, riding, and falling on it, the surface was peeling, splitting, and buckling in several places. The proceeds from a partnership with Gateway Children's Charity were utilized to make its outdoor learning spaces fun and safer for young children.
beyond housing 24:1 early childhood learning center
"GCC's grant was critical in establishing the 24:1 Early Childhood Learning Center, enabling Beyond Housing to equip two classrooms at the Center with furniture, fixtures, aides, and equipment supporting children with special needs, curriculum, and other supplies. Thanks to GCC, the Center, which is operated by United4Children is now nearing capacity and is serving children who would otherwise not have access to structured pre-K education."
Center for Hearing and Speech
"Without the assistance provided by the Gateway Children's Charity's grants in 2011, a total of 1,956 children would not have received preventative and reactive care for their hearing and vision conditions. Any school administrator or parent/guardian of a child discovered to have had either a hearing or vision deficit as a result of these 1,948 funded screenings by the GCC grant received follow up care to seek no- or low-cost remediation."
FlANCE Early learning center
"When Flance opened in 2014, the playground did not have any equipment for children to play on and improve their physical development. In 2015, we developed a master plan for the outdoor space, which included having playground equipment for children and developing an outdoor learning space for classrooms.
The GCC grant provided us with funds to add 7 pieces of equipment to the playground and a rubberized surface for a portion of the playground. It allowed Flance to complete phase 1 of our plan for the outdoor space. Another benefit of the grant was we were able to use it to leverage other contributions to successfully complete the master plan for the space."
KIPP St. Louis
"At KIPP St. Louis our early literacy instruction includes a rotations model that has students rotate around the classroom during the literacy block to receive reading instruction in a variety of ways. The classroom equipment that Gateway Children's Charity has provided enables us to use this literacy model in all of our classrooms."
North Side Community School
"GCC provided start-up funding for the Pre-K Program in 2012, allowing us to renovate three classrooms to accommodate 45 students. A second grant from GCC in 2015 supported our expansion to an Early Childhood Campus just south of our main campus. In January 2018, the St. Louis Post-Dispatch reported: "North Side defies assumptions that high-poverty schools cannot succeed. The school focuses on preschool, small class sizes and a regimented class structure to educate students." GCC funding helps to ensure North Side students gain a strong academic foundation from the beginning, ultimately yielding academic success in later grades."
St. Cecilia Catholic Church & Academy
"For children from underserved families, early childhood education is vital to their educational success, and it's even more important for children whose first language is not English. The pre-school was formed for educational purposes but also to provide a pipeline for students to enroll in kindergarten at the elementary school. The pre-school program also met the need for childcare for working poor families. Over 60% of the students participating in the pre-school actually enrolled for kindergarten and retention of families with students in pre-school and elementary school was over 90%."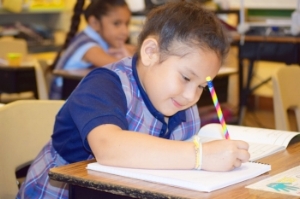 Urban Sprouts Child Development Center
"GCC support of Urban Sprouts' "Garden to Preschool" program allows all children in our care to receive breakfast, lunch and snack in a family-style environment. Meals are made from scratch daily and use locally sourced ingredients. The kitchen brings our children into the kitchen environment, allowing them to learn, explore and better understand their food. Experiences within the kitchen help to instill healthy eating practices that will last a lifetime."
Gateway Children's Charity is always looking for new ways to support underserved children.
We are seeking the following partnerships in St. Louis:
Pre-K Programs

Schools

Early Childhood Centers

Family Support Groups

...and many others
If you know of an organization that might fit the above description, please suggest a beneficiary by sending us an email at info@gatewaychildrenscharity.org